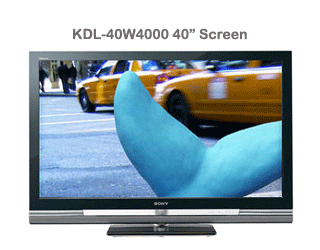 KDL-40W4000 LCD | Sony Bravia KDL-40W4000
The latest KDL-40W4000 LCD TV from Sony.

The KDL-40W4000 is part of the New Sony "W" series, a top quality, and as you would expect; superb picture flat screen LCD TV from the Bravia camp. Here you can check current stock, availability and prices at top UK suppliers including; John Lewis, PC World, Comet, Dixons, Currys, Digital Direct, Woolworths, Tesco, Asda, Sainsburys and more.

Please note that this Sony Bravia model may be referred to by different model numbers, which are in effect exactly the same TV and include: KDL40W4000, 40W4000, KDL-40W4000.
Blasting Prices On The KDL-40W4000 LCD


---
All four models from the Sony Bravia KDL40W4000 HDTV range have a 1080p Full HD LCD screen with 24p support (24fps) and Sony's latest Bravia Engine 2 processing which enhances many elements of the image for the best viewing experience.


All but the smallest 32-inch KDL-32W4000 have a 10-bit LCD panel, rather than the standard 8-bit, meaning they can produce 1024 different shades of graduation between colours, instead of just 256. "Live Colour Creation" and a high 178 degree viewing angle should provide great viewing. The KDL40W4000 also features proof by including all the latest features and also supporting an integrated HDTV DVB-T tuner and AVC-HD decoder along side an analog tuner for receiving all signals.